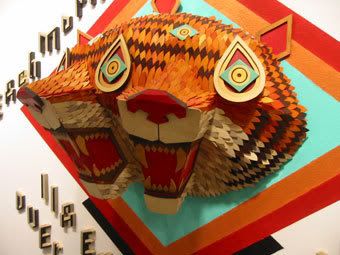 Some really good new stuff in the Jonathan LeVine Gallery
At The Edge of Town exhibition of new mixed media handcrafts painted wood sculptures by AJ Fosik.
Equilibrium, Brazilian native Vitche's first solo exhibition in New York.
The show features sculptures, paintings and an installation.
Trouble, Pass Me By, by Andy Kehoe
provokes ambiguity in his paintings and explores an interaction between figures and their natural surroundings,
as well as the contrast between natural beauty and human ugliness.
after all that goodness I headed to another gallery showing Andy Warhol